The Controller
Anybody notice something about this thing? You have the control pad, and two face buttons called 1 and 2... notice something's missing? That's right, there's no Pause button! It's on the console!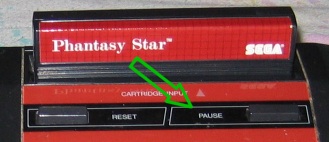 This means if you have to Pause your game, you have to take your eyes of the screen and reach over to the console, and press the Pause button on it. At least my TurboGrafx and its three-foot controller cord got me used to keeping a game system right next to me.

Also, the control pad sucks. Because of its square shape, how freaking tiny the controller is (that image is maybe 75% its actual size), and how the input area is split up, I found myself pressing the diagonal directions all the time, totally screwing my games over. Fortunately, there's a very easy way to fix this - you can use a Sega Genesis controller in the Master System (okay, easy if you own a Genesis, but if you don't have a Genesis you probably don't have a Master System either). I've been told you can also use the Genesis controller in Atari 2600s and Commodore VIC20s. Neat. Unfortunately, the Master System still won't read the Pause button on the Genesis controller, meaning you still have to use the button on the system, but at least the games are now playable.